Hope everyone is enjoying these crisp autumn mornings! It is one of my favorite times to be out on the lake, and I'm looking forward to watching the fall colors reflecting on the water.
We've just wrapped up the third quarter of 2020, and we're headed towards a record setting sales year on the lake. In September, 13 waterfront homes and 5 dockable lots closed on Lake Wylie. Lot sales are keeping pace with the past couple of years, and home sales are soaring to a new year-to-date high: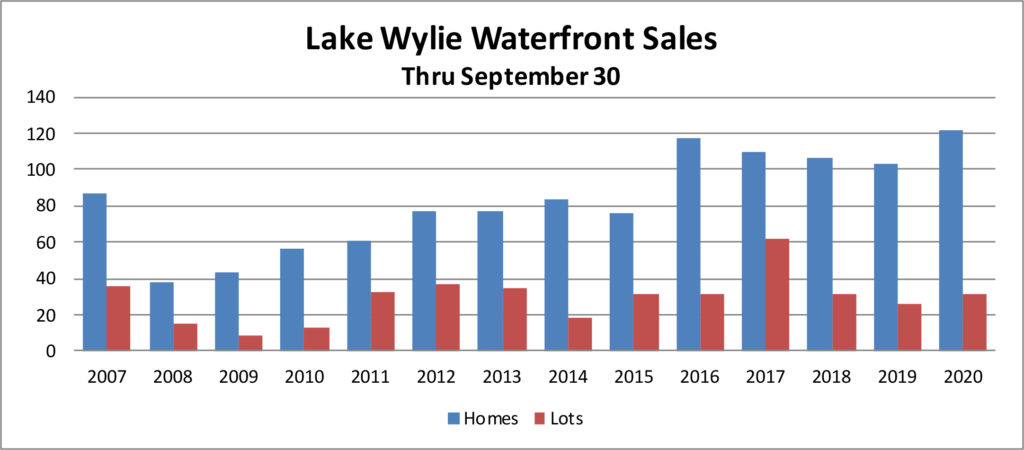 In the chart above, the blue bars represent the number of waterfront home closings through September of each year since 2007; the red bars represent the number of dockable lot sales.
As of the end of September, waterfront home sales total 122, and there are currently 38 under contract — putting us on track to have a record sales year on Lake Wylie.  Waterfront lot sales are also expected to finish strong, with 32 lots sold to date and 14 currently under contract.
However, the number of listings are at a RECORD LOW. There are only 65 waterfront homes currently on the market, and with the large number that are under contract, there are only 27 available. In September, over half of the homes that closed were on the market for less than a week. New listings are being snatched up by eager buyers, many with multiple offers and sales at or above asking price.
Typically, sales begin to drop off as the summer ends, as illustrated in the chart below: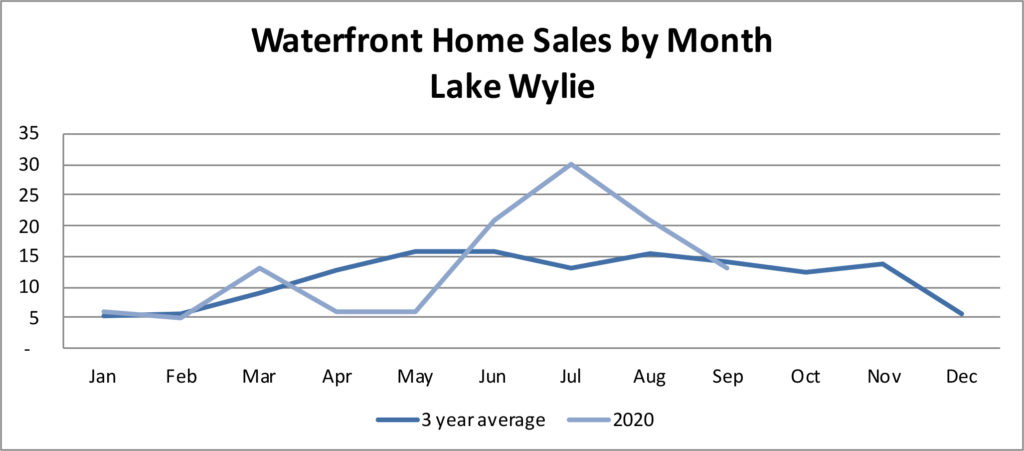 Above, the dark blue line represents average sales for Lake Wylie waterfront homes over the past three years (2017-2019), and the light blue line represents home closings per month in 2020.  Closings dropped in the early days of the pandemic, but recovered in June and continued at a strong pace.
With the number of homes currently under contract, we expect 4th quarter sales to exceed the 3-year average, especially if additional homes are listed during that time. With pent-up buyer demand, it is an excellent time to be in the seller's shoes.
Waterfront lots, too, are in demand this year. Inventory is at a low point, with only 70 dockable lots currently on the market, and with 14 under contract, there are just 56 available. Lot sales generally benefit when the home market is tight; as buyers are unable to find available waterfront homes, they often choose to purchase a lot and build.
Average prices for waterfront homes and lots have been trending up over recent years: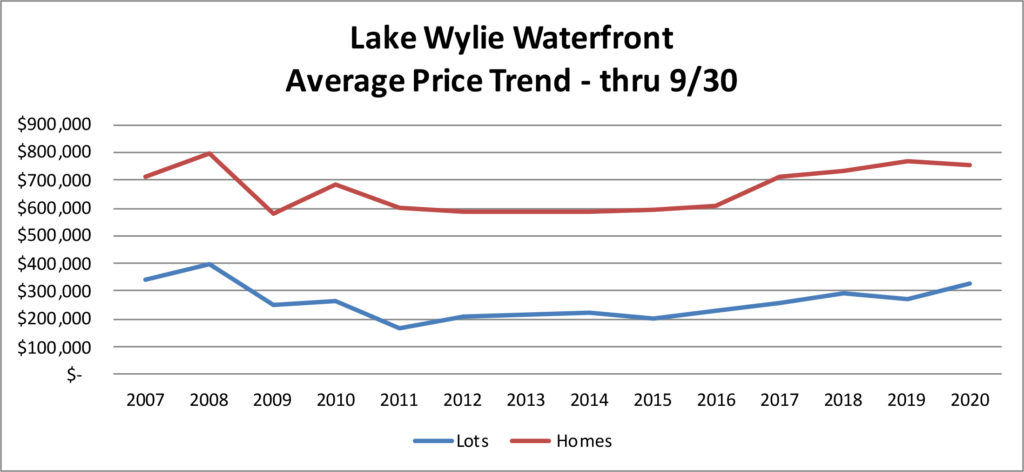 In the chart above, the blue line represents average waterfront lot price, and the red line represents average waterfront home price on Lake Wylie.  So far in 2020, the average price for waterfront homes is almost $760,000, and the average for lots is about $325,000.
We have had some extraordinarily high priced lot sales in The Sanctuary — a 12 acre tract for $1.2 million and three others in the $400's. Removing The Sanctuary sales, the average lot price is in the mid $280's — still a strong level in comparison to recent years.
Sales by price segment show increases in the higher price points for waterfront homes: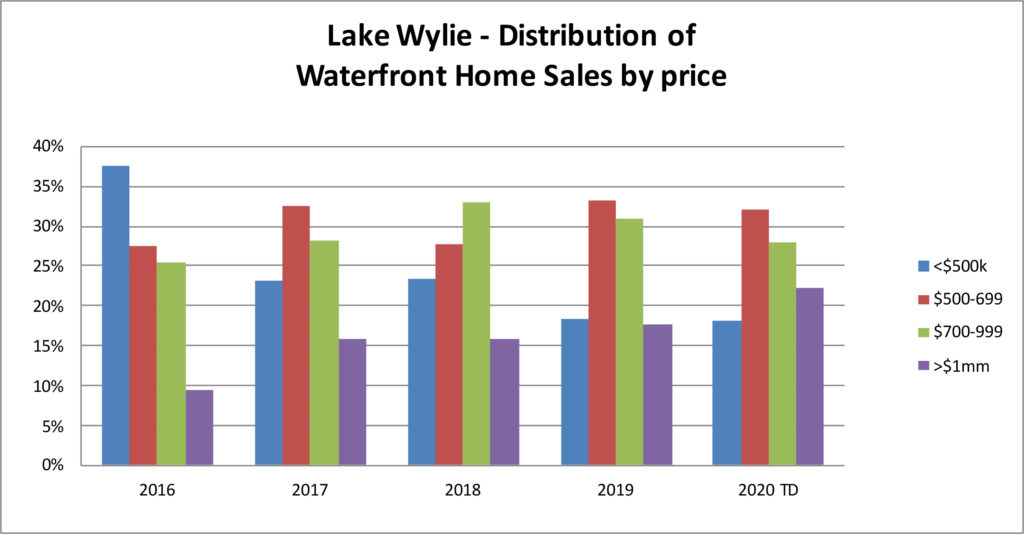 In the chart above, the blue bar represents the percentage of home sales in the <$500k segment, the red bars represent $500k-$699k, the green bars represent $700k-$999k, and the purple bars represent $1 million+ homes.
Mainly because of lack of inventory in the lower priced segments, the mix of sales has shifted. Also, we have had a larger number of luxury-home buyers in our marketplace, driving an increase in the $1 million+ segment.
Thus far in 2020, 27 homes have closed for $1 million+.  In 2019, there were 25 sales in the $1 million+ category at year end, and THAT was a record year!  Of the homes currently under contract in 2020, 14 are priced over $1 million, so it appears we'll see an impressive new record on Lake Wylie.
Typically, the time on market for the luxury priced homes has been quite a bit longer than for the lower priced homes, because the inventory for higher priced homes has generally exceeded demand. With the increase in sales in that segment, inventory is more in line with demand and we're seeing quicker sales. More than half of the $1 million+ priced homes this year have sold in under a month.
If you'd like to see details on this year's sales on Lake Wylie, please visit my webpages Recent Waterfront Home Sales and Recent Waterfront Lot Sales.