Happy New Year everyone! I wish you all the best in 2022.
I am filled with gratitude, marking the end of a successful real estate year in 2021. The Lake Wylie Man team closed 52 waterfront transactions — more than 4 times the number of any other realtor — plus many more properties near or off the lake. I am happy so many people trusted us to conduct their real estate transactions and am happy we could help in the process.
It was a banner year on Lake Wylie in many ways: record sales dollar-wise, crazy low levels of inventory for sale, remarkable price increases, fast-paced sales. As we head into 2022, we expect more of the same.
Indications are "work from home" scenarios, either on a full-time or part-time basis, are here to stay. Many companies are allowing hybrid work schedules with some time in the office, some time at home. With the added flexibility, workers are moving from densely populated urban areas out to places like Lake Wylie, where they can enjoy some extra space and beautiful recreational amenities, yet still commute to the office when needed.
Rising interest rates may gently tap the brakes on our roaring real estate market, but pent-up demand — which far outpaces our supply of listed properties — should ensure a robust market into 2022.
Let's take a look at performance in 2021:
Overall Waterfront Sales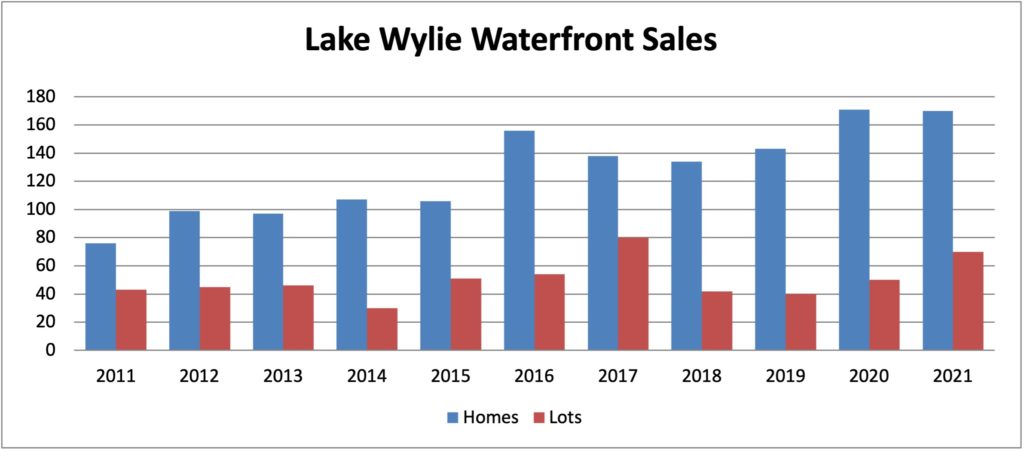 In the chart above, the blue bar represents number of waterfront homes sold on Lake Wylie each year, and the red bar represents dockable waterfront lots. The market hit a new high in 2020 for homes (171 sold), and the number for 2021 was just one shy of that record with 170 waterfront home sales.
The dollar value of 2021 sales was almost $158 million, 15% higher than in 2020 and a new record on the lake.
In addition, 70 dockable lots, totaling almost $24 million, sold in 2021.
Prices go up, up, up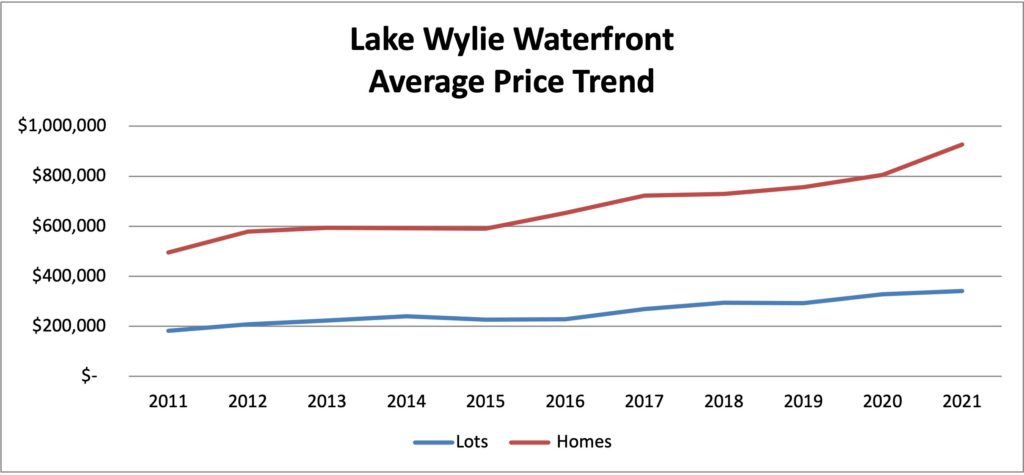 Average prices continue to go up on Lake Wylie. In the chart above, the red line represents the average sale price of waterfront homes, and the blue line represents dockable lots.
There was a sharp uptick in average prices this past year. One of the factors was the shift to higher priced homes — driven by low inventory levels (particularly in the more moderate priced segments). Prices have also increased on individual homes. Several homes that have sold twice within the past four years have increased significantly — 25% or more — in sales price with simple adjustments such as fresh interior paint.
Overall, price per square foot for waterfront homes is up over 20% in comparison to last year.
Average prices for waterfront lots are also up, now averaging about $340,000. Belmont and Charlotte — which represent about two-thirds of total lot sales — carry the highest average prices, driven by premium-priced land in the McLean developments in Belmont and large acreage lots in The Sanctuary in Charlotte. Lots in the Clover school district, representing about 20% of waterfront lot sales, average about $275,000 in price, with variations according to location, lot size, water frontage, view and topography.
Shift to more expensive homes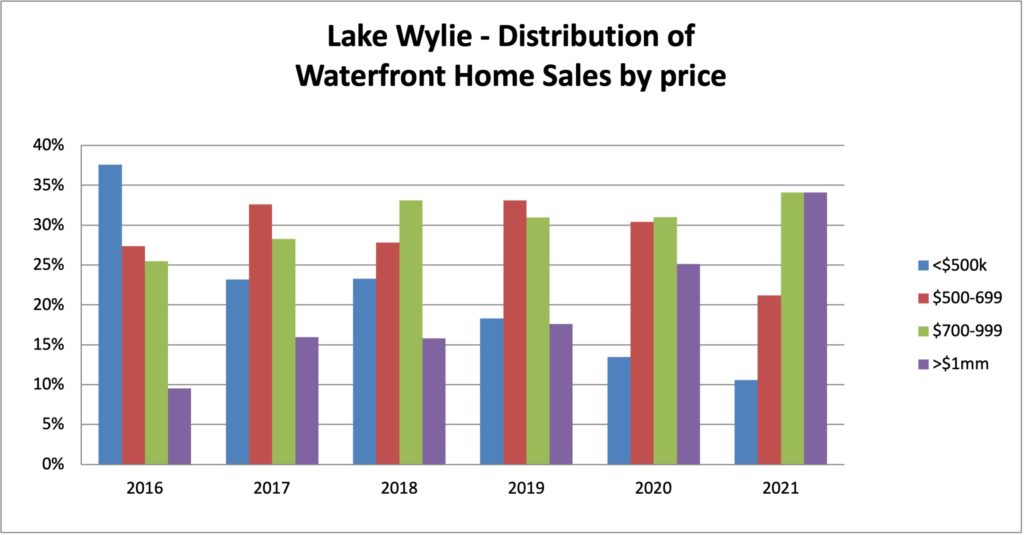 The chart above represents percent of homes sold by price each year, with the blue bar under $500k, red $500-$699k, green $700-$999k and purple over $1 million.
Just a few years ago, homes under $700,000 represented the majority of sales, with over two-thirds of the market. In 2021, only one-third of the sales fell in the lower price ranges. The $1 million+ luxury segment has grown each year, and 34% of sales (58 homes!) in 2021 exceeded the million dollar mark.
Several factors have contributed to this shift. Inflation has raised prices up on all homes. Also, buyers with deeper pockets have moved into our area — buying up the inventory of luxury homes that, until recently, outpaced demand. We're finding as people spend more time at home, the demand is up for homes with larger floor plans, dedicated space for home offices, and amenities such as pools, outdoor living areas, fire pits, gourmet kitchens and spa-like baths.
Another contributing factor to the shift to more expensive homes on the lake is the supply side. In the past 18 months, there has been an average of just 10 waterfront homes under $700,000 in any given month (including those under contract.) Three years ago, the average was 38. Inventory has been tight on all waterfront homes, but the shortage is most pronounced in the lower/moderately priced properties.
Had lesser-priced homes been available to buyers, the total number of homes sold would have been higher, and the percentages would not have been skewed so much towards the more expensive segments. Oftentimes, waterfront buyers are able to wait for their purchase; they may live locally in non-waterfront homes, or may have flexibility in their move dates. From working with a number of waterfront buyers, we know there is pent-up demand for waterfront homes, in all price segments but particularly in the more moderate price segments.
At the beginning of January, there were only 26 waterfront homes listed, with 16 of those under contract. This is down by 37% in comparison to the same period in 2020, and down by 65% in comparison to 2019.
What can my money buy?
As prices go up and inventory shrinks, buyers find their budgets don't go as far on the lake as they used to. On the average, homes by price range can be described as follows:
Under $500,000 – Average age of home is 47 years, 1,475 square feet. Includes "cabins" and some smaller primary homes.
$500k – $699k – Average age of home is 37 years, 2,225 square feet. Most are not in traditional neighborhoods, but may be adjacent to The Palisades, older areas of Tega Cay, Allison Creek and Concord Road area, Armstrong Road area in Belmont. "Big view" cabin properties often fall into this price range.
$700k – $999k – Average age of home is 28 years,  3,175 square feet. Newer homes in this price range may be in neighborhoods such as Harpers Point, McLean Overtake in Belmont, Somerset at Autumn Cove in Lake Wylie. Most of the recently built homes in this price range generally do not have big views. Some of the older, smaller homes in this price range do have wide open views and are in excellent locations, such as River Hills, Tega Cay and the community of Lake Wylie.
$1 million plus – Average age of home is 19 years, 4,680 square feet. Most homes in this price range have long range water views, outdoor living areas, gourmet kitchens. As the price goes up, the luxury factors and location desirability increase as well!
Two waterfront homes sold for more than $2 million in 2021 — one in The Sanctuary and one near The Palisades.
Luxury home sales (over $1 million) were disbursed geographically around Lake Wylie, with 15 sales in the Charlotte area, 14 in York, 11 in Lake Wylie (a total of 25 in the Clover School District!), 10  in Belmont, 6 in Tega Cay and 2 in Rock Hill.
"Cabins" — properties generally used as secondary homes, most 50 years old or more and under 1,400 square feet — topped the half million mark for average sales price in 2021, coming in at almost $530,000. Many of the cabins have been updated with modern appliances and a few comforts, and many are located on premium, "big view" lots. Sometimes buyers purchase the properties to use for build sites for primary homes, and others use as vacation homes. In some cases, the cabin property is "highest and best use" of the property; the land may not have sufficient setbacks for modern building regulations.
Seasonality of sales
Sales in 2021 followed typical seasonality for waterfront homes: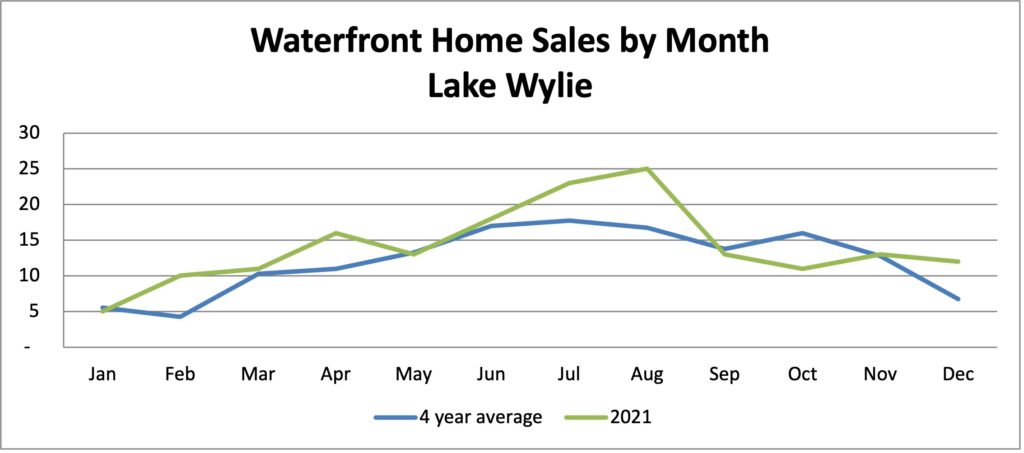 In the chart above, the green line represents the number of waterfront homes closed by month in 2021, and the blue line represents the 4-year average. Sales are usually lowest in January/February, then begin to build through spring and summer, peaking in July/August.
Closings (as reflected on this chart) generally lag the time the properties went under contract by 6-8 weeks. Closings have taken a little longer during the pandemic.
For more details about properties closed in 2021, please visit my web pages 
Recent Waterfront Home Sales
 and 
Recent Waterfront Lot Sales
  If you'd like an evaluation of your property or have any questions, I invite you to call or email. In this fast-paced market, a seasoned Realtor can help you obtain the best value for your property and ensure a smooth transaction. The Lake Wylie Man team is unmatched in experience and expertise on Lake Wylie. We've been the top-selling team for well over a decade.