Hope everyone had a great Fourth of July! It was fun to watch all of the activity on the lake — boat parades, fireworks, folks at the sand bars.
Real estate activity on Lake Wylie has also provided quite a show. Tight inventory, multiple offers, record-setting prices. The market has shifted to a new level, with the average waterfront home sale carrying a price tag of $1.2 million. Just five short years ago, the average sale was in the $600's. It is hard to comprehend.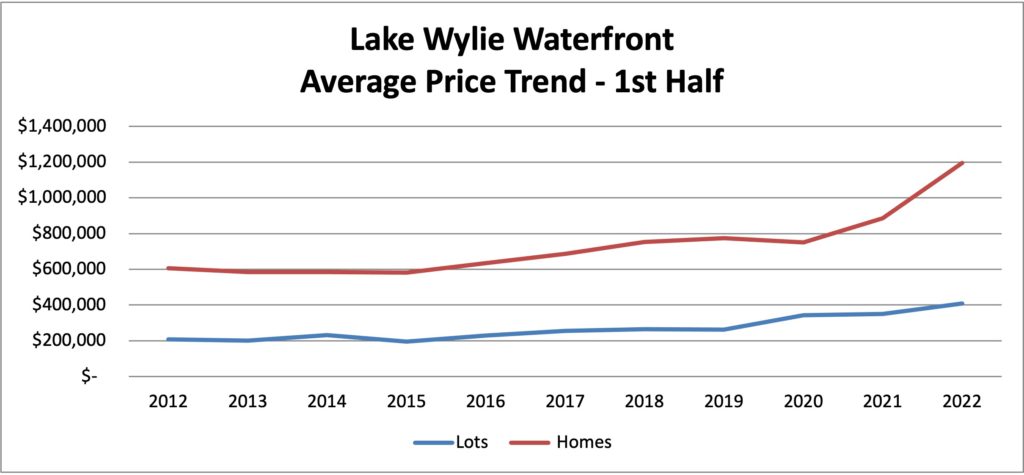 The red line in the chart above represents the average price of waterfront homes sold on Lake Wylie — growing from about $600k to $1.2 million over the past decade. The blue line represents dockable waterfront lot prices, doubling over the past 10 years from about $200k to just over $400k.
While the average size of home sold has not changed much over the years, during the past two years we are seeing an increase in the sale of more expensive, new construction houses, plus homes with more "luxury" features (gourmet kitchens, spa-like baths, and outdoor living areas), contributing to hefty price increases overall.
We're in a new era of real estate sales on Lake Wylie. Prior to the pandemic, there were only two home sales on Lake Wylie recorded at $2 million or more — both in 2016. In the past two years, there have been eight sales with price tags of $2 million plus. Lake Wylie is attracting a different group of buyers than in years past.
We regularly monitor "same house sales," homes that have changed hands more than once in the past 4-5 years. While some homes undergo significant renovations during the short ownership periods, we're seeing 25-40% sale price increases on homes with simple cosmetic updates (fresh paint, a few new fixtures and/or appliances.)
For the first half of 2022, waterfront home sales total $77.7 million — a 24% increase over last year's record $62.9 million in sales.
However, the number of homes sold on the lake decreased since last year: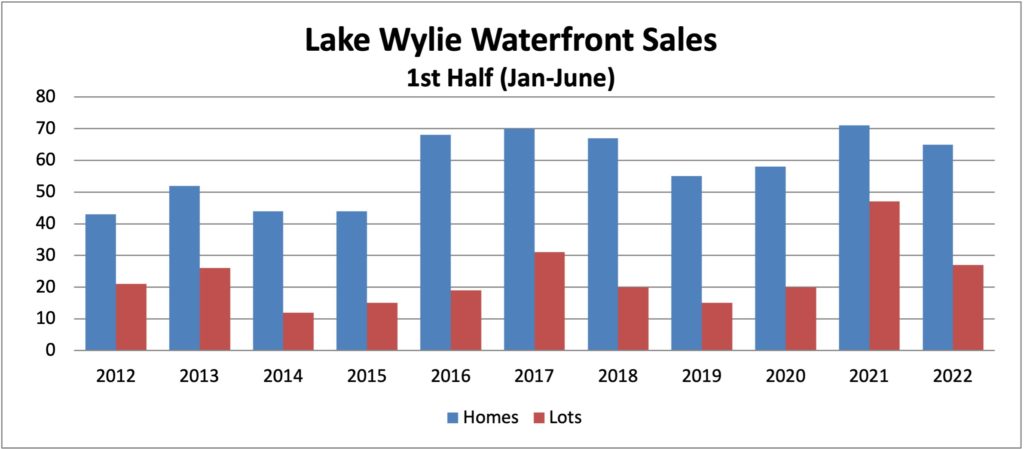 In the chart above, the blue bars represent the number of waterfront home sales through June of each year, and the red bars represent the number of dockable lots sold. First half 2021 set a record with 71 waterfront homes and 47 lots sold — in spite of very low inventory.
This year, even lower inventory and higher prices has held back the number of properties sold — with an 8% reduction in home sales and a 43% reduction in lot sales compared to last year.
We expect sales to continue to fall behind last year's levels. The number of homes under contract as of the first of July is about 40% below last year, and the number of listings continue to decline.
Listing Inventory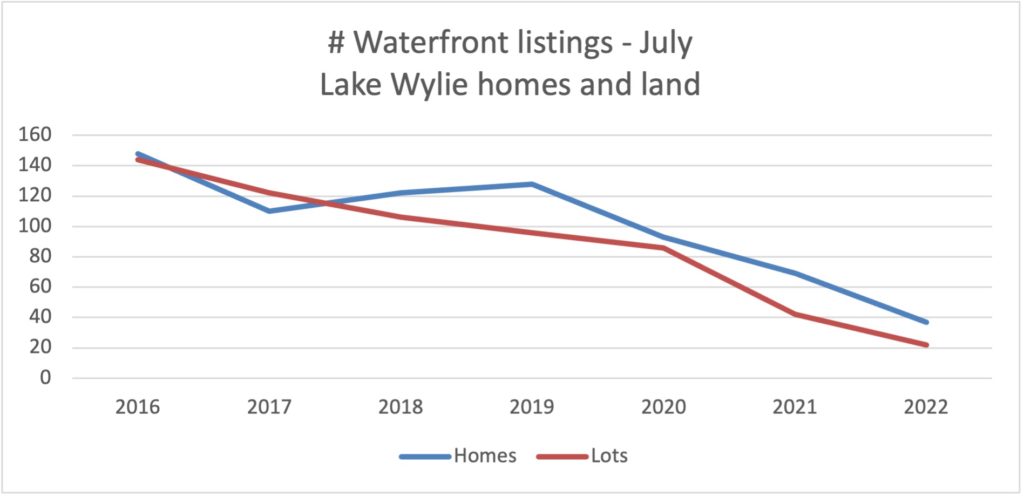 The number of dockable lot listings (red line) on Lake Wylie has declined rapidly since the end of the recession. Prior to the recession, which hit in 2008, investors were scooping up lots in emerging developments on the lake, hoping to profit as the neighborhoods grew. Instead, the market crashed and there was a glut of inventory during the recession years. In 2011, more than half of the lots sold on the lake were short sales or foreclosures, selling for less than $200k.
As we began to emerge from the recession, lot sales peaked in 2017 with an average price in the mid-$200's. Now, with only 22 lots listed as of the first of July, the average price of lots for sale is $417k. More than half of the lot sales this year have been in the new McLean developments in Belmont, with price tags averaging in the high $400's.
The number of home listings has also plummeted. The first of July typically represents the peak of the year for number of listings, with 125+ homes on the market in years prior to the pandemic. This year, only 37 homes are listed.
The shortage is particularly pronounced in the lower price points. In July 2019, 77% of the listings were priced under $1 million. Now, the opposite is true, with 78% priced above $1 million. There are only three waterfront homes currently on the market priced lower than $800,000.
We're in a new era of real estate sales on Lake Wylie. Prior to the pandemic, there were only two home sales on Lake Wylie recorded at $2 million or more — both in 2016. In the past two years, there have been eight sales with price tags of $2 million plus.
Off the lake
Price increases in our area are not limited to lakefront property. In the general market in York County, South Mecklenburg and Belmont, the average home price has jumped from $318k in 2019 to $470k in 2022, an increase of almost 50%. Price per square foot is up 54% for the 3-year period.
A sampling of off-the-lake sales in 2022 thus far include:
70 homes in Boshamer Farms in Clover, average price $354k, $175/square foot
66 homes in Paddlers Cove in Lake Wylie, average price $581k, $190/square foot
31 homes in Cypress Point in Lake Wylie, average price $596k, $179/square foot
16 homes in Lake Ridge in Tega Cay, average price $617k, $180/square foot
25 homes in McCullough in Fort Mill, average price $654k, $202/square foot
34 homes in Riverwalk in Rock Hill, average price $542k, $209/square foot
93 homes in The Palisades in Charlotte, average price $644k, $189/square foot
36 homes in McLean developments, average price $599k, $230/square foot
Year-to-date in 2022, the total number of homes sold in the area are up just 4% in comparison to pre-pandemic sales.
While national headlines about real estate indicate the housing market is slowing down, our local market is relatively strong. We have noticed showings have declined some, but — both on and off the lake —it is still a seller's market. New listings receive immediate attention from buyers, and when priced correctly the properties sell quickly.
If you'd like to talk about your home or lot, I'd love to help you. The Lake Wylie Man team has vast experience both on and off the lake, in bullish markets and in bear. When it comes to marketing your property, rely on our expertise for the best outcome.