Well folks, we've almost made it through 2020, and for a year with the same moniker as perfect vision, there were a lot of things we didn't see coming. Case in point: in a year when we struggled with tight inventory, never seeming to have enough waterfront homes available for sale, we've already surpassed the sales record on Lake Wylie!
Yep, as of November 30, 158 dockable waterfront home have closed so far this year, exceeding the record of 156 in the full year of 2016. There is more to come this year, of course, with 19 homes currently under contract, some of which will close in December.
Check out the monthly waterfront home sales in comparison to the past 3-year average: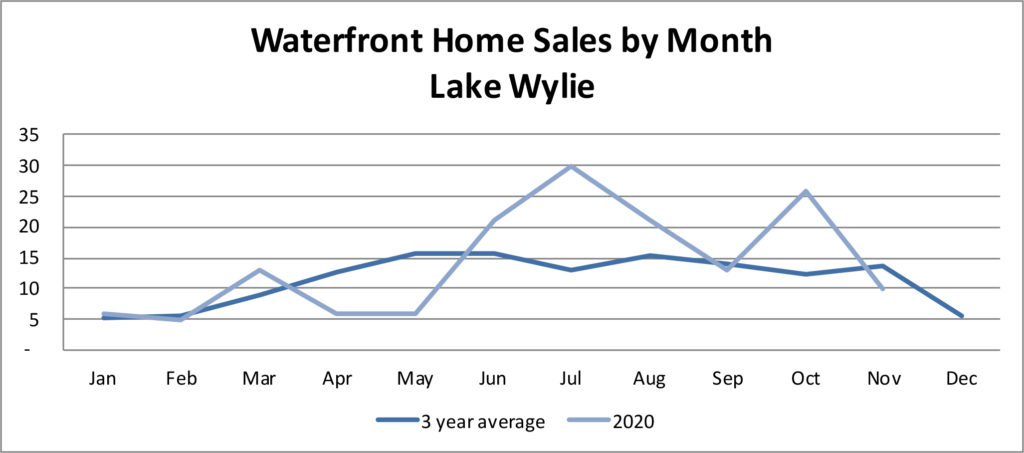 In the chart above, the dark blue line represents a 3-year average number of closings for dockable waterfront homes on Lake Wylie by month. The light gray line represents 2020 – – a bit atypical and more volatile, but hey, it's 2020.  After a market "crash" in April and May during the early days of the pandemic, waterfront property on Lake Wylie began selling like Lysol during the summer — even as available inventory levels dipped to their lowest point in decades.
The number of dockable lots sold to date in 2020 has reached 40 — equal to the total number sold in 2019. The average price of almost $325,000 is the highest average in a decade, driven partially by high dollar sales in The Sanctuary and a few other premium locations scattered across the lake. Many of the lot sales this year have been on the market for awhile — over half of the lots sold were listed for more than a year. Some were listed for over 4 years!
Tightened inventory and looser pocketbooks have had a positive impact for sellers on Lake Wylie.
Currently, available inventory is at a very low point: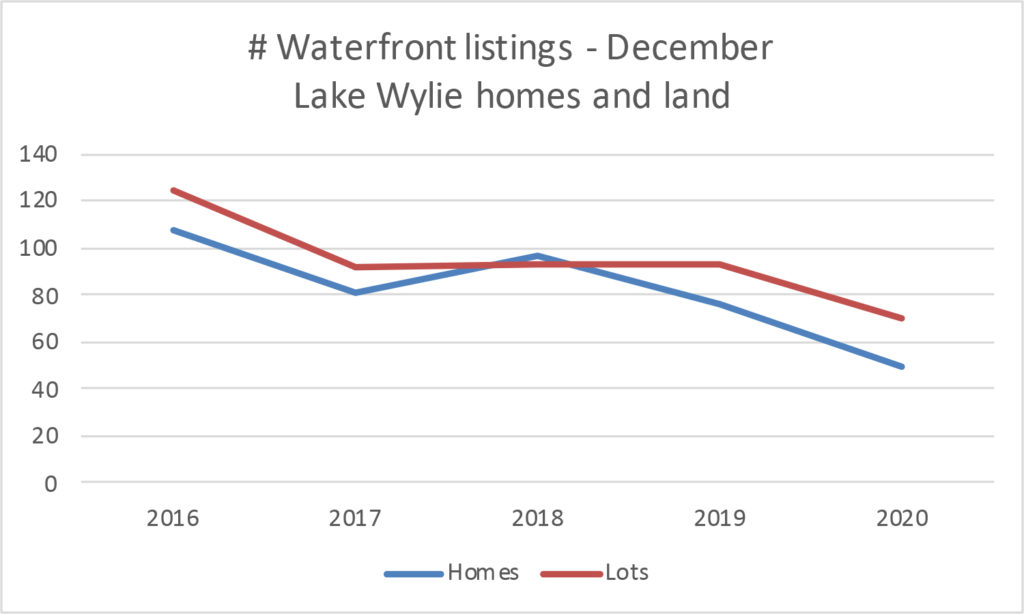 In the chart above, the blue line represents the number of dockable waterfront home listings on Lake Wylie at the first of December from 2016-2020.  The red line represents the number of lot listings. Listings under contract are included in these numbers, as the MLS includes them in the "on market" numbers.
Right now, there are 50 waterfront homes listed — 31 available plus 19 under contract. There are 70 waterfront lots listed — 56 available and 14 under contract. While the number of listings on Lake Wylie typically fall off a bit in winter months, the chart above compares the same time for each year and illustrate the remarkable decline in available inventory.
We are still seeing a lot of activity from buyers who are waiting in the wings for the right property — in spite of the pandemic and the winter weather. If you'd like to discuss your property, I'd love to hear from you.
I wish you all a healthy, happy holiday season.