Real estate sales are starting to pick up — in spite of record low inventory. In the past few weeks, I've seen several new listings snatched up in under a week, with multiple offers. Buyer demand is still quite strong, outpacing supply — a trend we've seen for a couple of years now.
Because of the strain on available listings (inventory), sales for the first quarter are well below last year's: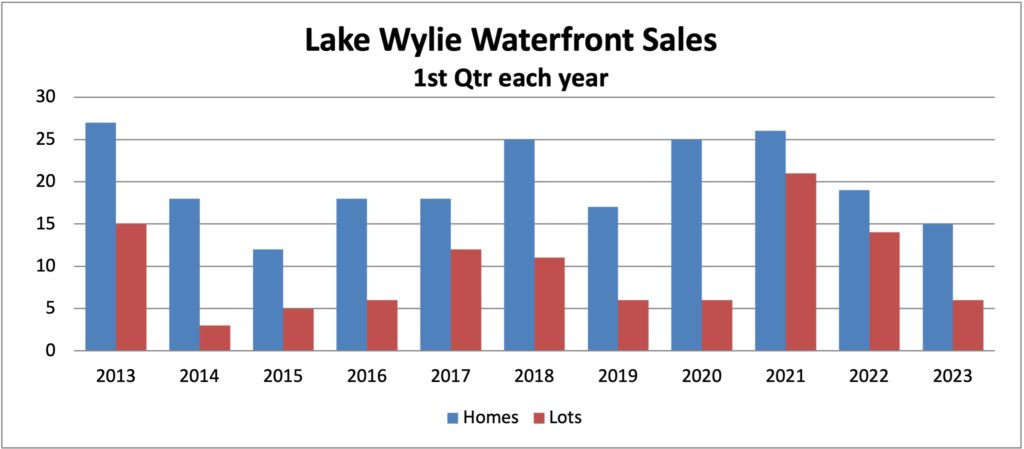 In the chart above, the blue bar represents the number of dockable waterfront homes sold on Lake Wylie during the first quarter of each year, and the red bar represents waterfront lots.
Compared to 2022, the number of home sales is down 21% and the number of lot sales is down 57%. Available home listings are down 30% vs. last year — which at the time was a record low. The good news for sellers is that, when properly priced, their home is likely to sell quickly.
Inventory shortages are also an issue for waterfront lots. Currently, there are only 25 listed.
In the general market surrounding Lake Wylie, single-family home sales are down 27% compared to last year. Prices are holding steady — with homes selling at an average of $197 per square foot, up only 3% compared to last year.
Waterfront prices continue to climb for both lots and homes: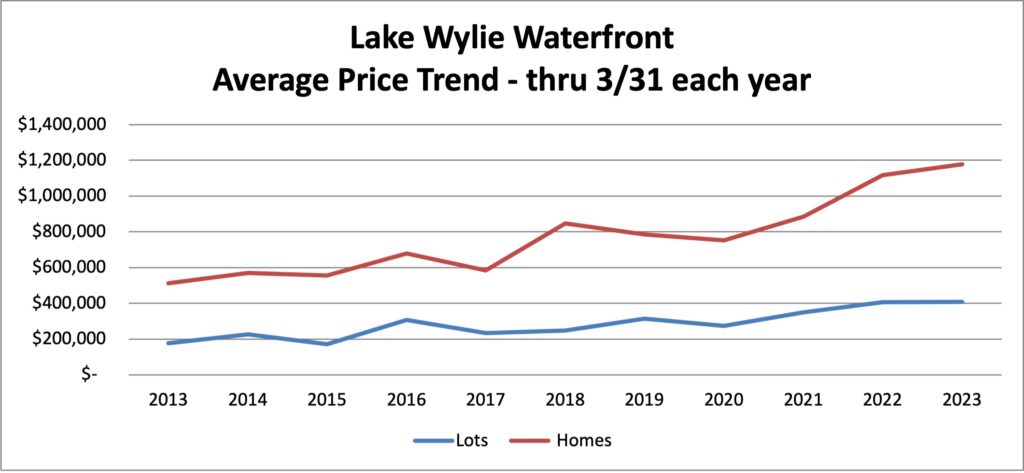 In the chart above, the red line represents average price paid for waterfront homes on Lake Wylie during first quarter of each year. The climb since the beginning of the pandemic has been sharp and steady — waterfront home prices are up 57% since 2020, and rose 6% over last year to an average of almost $1.2 million.
Lake Wylie waterfront lot prices are up 49% since 2020, with an average sales price of just over $400k — however much of that growth has been driven by premium pricing in McLean developments. About 45% of the sales in the past year and a half have been McLean properties, with an average price in the high $400's. Inventory shortages have also contributed to price hikes.
We are entering the key sales periodfor waterfront real estate: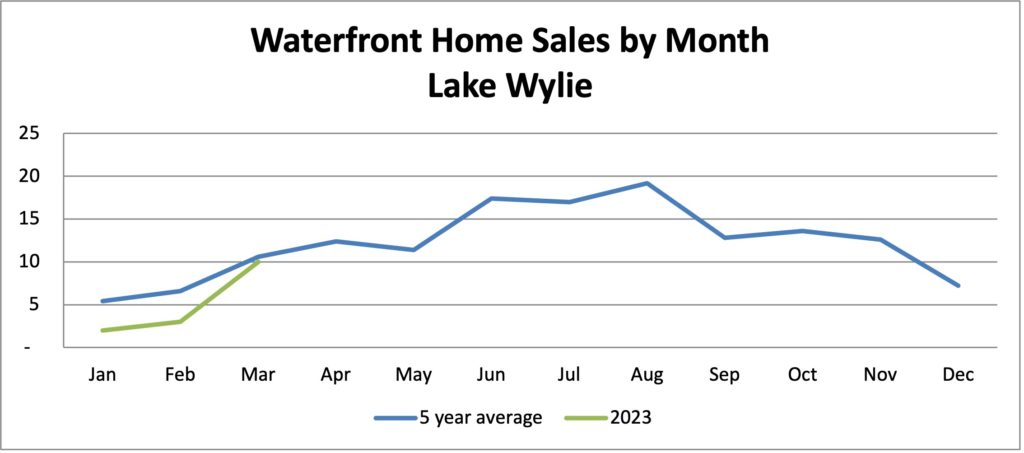 In the chart above, the blue line represents the average number of waterfront homes sold over the past five years, and the green line represents this year's sales.
June through August typically have the highest number of closings. With most closings occurring about 6 weeks or so from the date of the offer, summer closings reflect offer dates beginning in mid-April.
For sellers interested in listing their homes, now is a great time. Spring fever turns buyers minds toward lake fun — and there is no better way to enjoy the lake than living waterside. The Lake Wylie Man team finished in the top sales spot for waterfront property last year — as we have for the past 15 years. Our experience in handling waterfront transactions on Lake Wylie is unparalleled, and you can rely on us to know the regulations and special considerations of buying and selling lake property.
Give me a call if you have any questions or would like to discuss your property. Many thanks!
Drew