The real estate market on Lake Wylie has cooled off a bit, similar to what is happening both regionally and nationally. We definitely still have buyers looking and ready to purchase — but the listing inventory is still critically low.
Rising interest rates and increasing prices on the lake have shut out some of our buyers, who are either turning to properties off the lake or simply putting their waterfront dreams on hold. The inventory shortage is most pronounced in the lower and mid-priced waterfront homes.
Lake Wylie waterfront homes that have changed hands more than once in the past four or five years are selling for an average of 40% above their past purchase price, with only minor cosmetic improvements (paint, new appliances, for instance), or no changes at all. Waterfront sellers have the opportunity to realize healthy profits, depending on the property and the location/type of home for their next move.
The month-to-month sales trend has been a bit more volatile on the lake this year than in typical years: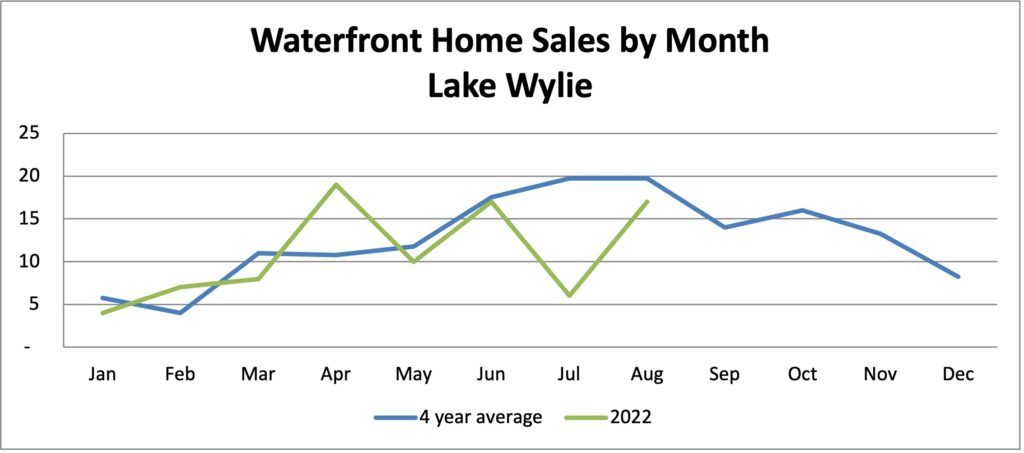 In the chart above, the blue line indicates the average number of waterfront homes sold on Lake Wylie by month for recent years, and the green line indicates sales in 2022. Typically, June through August represent the peak selling time for waterfront homes. This year, we had a spike in April, an abnormally light sales month in July, and August sales a little below the norm. Other highlights:
The average price on the lake year-to-date is $1.2 million — up from the record high of $940k last year.
There are just 15 homes under contract (about half of the typical number this time of year.)
The average list price of homes under contract is a whopping $1.5 million.
On average, homes are selling right at their asking price. Some are selling more than 10% above asking.
There are only 34 waterfront homes on the market, with an average price of $1.6 million.
Waterfront home listings are down from last year by 28%, and down 72% in comparison to pre-pandemic levels.
The waterfront lot market is also very tight:
Thirty-two dockable lots have sold this year, down 43% from last year.
The average price for waterfront lot sold in 2022 is $400k, up 17% from last year.
Only 23 dockable lots are currently listed, down slightly from last year and down 77% from pre-pandemic.
In the general market, some of the highlights of the Charlotte region include:
The median sales price is up 17% in comparison to last year.
Inventory is up 31% vs. last year. Sales have slowed due to rising prices and mortgage rates, and some buyers have been priced out of the market. Homes are staying on the market a little longer than they did a year ago.
In York County, showings are down 30% compared to last year. Showings are down 26% in Mecklenburg and down 19% in Gaston.
Homes that closed this summer sold for 102% of the asking price — indicating a competitive buyer base.
Now more than ever, the sound advice of a real estate expert is valuable to both buyers and sellers. If you are considering making a move, please give me a call and we'll discuss your best strategies for success. I look forward to talking with you!