Happy Spring, everyone! It has been fun to see folks getting out on the lake, the flowers and trees blooming everywhere, and warm-weather events cranking up.
Real-estate sales in our area (York County, Southern Mecklenburg County, Belmont) have come out of the gate strong, with total first-quarter home sales about the same as last year, and up 20% in comparison to 2019 (pre-pandemic.) Average prices are up a whopping 45%-50% in comparison to B.C. (Before Covid.)
On Lake Wylie, first-quarter sales for waterfront homes and dockable lots fell significantly below the same period in 2021: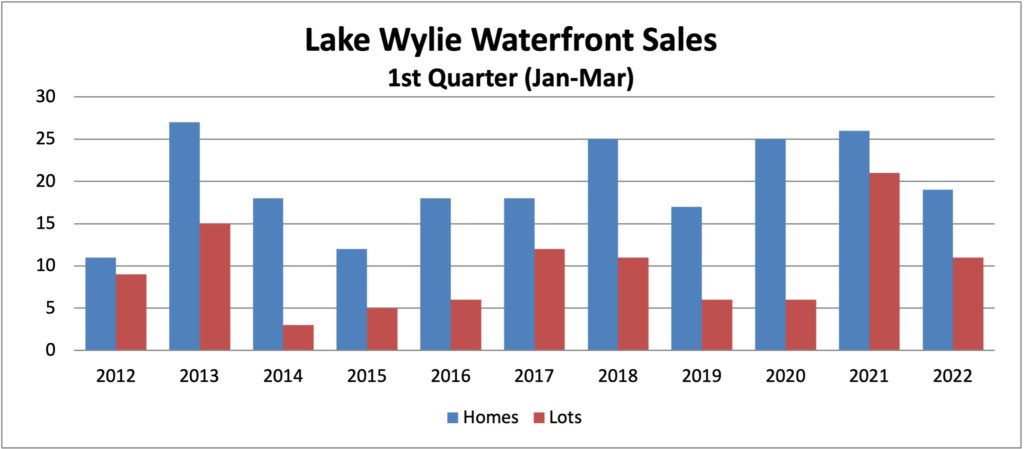 In the chart above, the blue bars represents the number of waterfront homes sold January-March of each year, and the red bars represent the number of dockable lot sold.
Thus far in 2022, 19 waterfront homes and 11 dockable waterfront lot have closed, well below 2021 numbers. First-quarter sales are notoriously volatile, however, and are not usually a reliable prediction of the year's performance. Wintery weather tends to affect early year closings. The past couple of years, a shortage of listings — particularly in more moderately priced homes — has impacted sales trends as well.
The number of "pending sales" on Lake Wylie is down about 25% in comparison to last year, an indication that the slowdown in first quarter may extend through mid-year.
Prices have continued to increase for both homes and lot on the lake: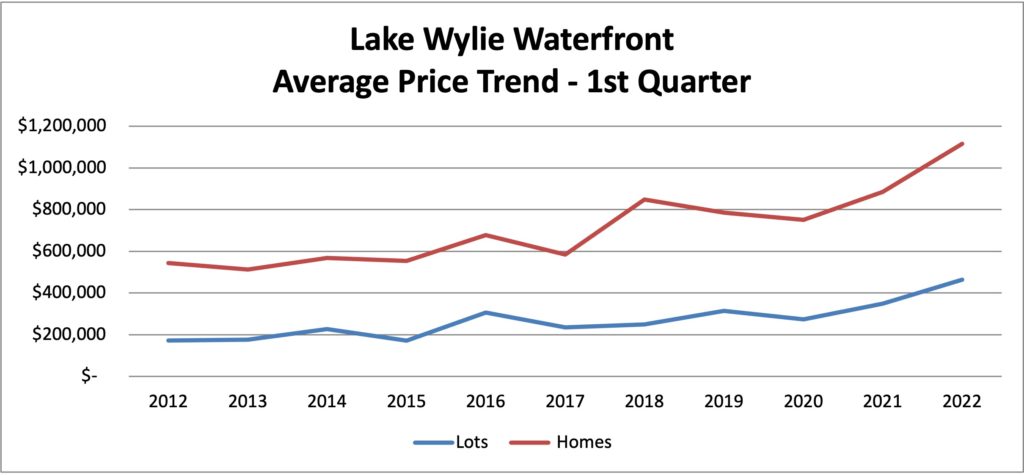 In the chart above, the red line represents the average price for Lake Wylie waterfront homes, and the blue line represents lot prices. For the first year ever, the average price of waterfront homes sold on Lake Wylie exceeded $1 million. Almost 60% of home sales to date this year on the lake carried price tag of over $1 million.
Supply (listings) has played a role, with a pronounced shortage in the lower-mid-priced properties. All homes — on and off the lake — have risen significantly in price, with increases of 20-25% in comparison to a year ago. Many homes sell at or above asking price, with bidding wars beginning within hours of listing.
The average price for waterfront lots sold in first quarter rose sharply in the past couple of years. However — 8 of the 11 dockable lots sold thus far in 2022 have been in premium-priced McLean developments, with sales prices ranging from $435,000 – $800,000. More of the same are on the horizon.
While demand is still high, the real estate market may begin to lose its frenzy in coming months. Some potential buyers have been priced out, and will stay where they are until conditions are more favorable. Rising mortgage rates are giving some buyers considerable pause — unless they have cash in hand from their own real estate sales.
We are entering the spring/summer bump in the market, the season when most buyers make moves. This year, we may see fewer "optional" moves taking place while folks wait for the market to settle.
We are still in a "seller's market," however. The number of listings on the lake are at record lows, and people are still watching and waiting for new properties on the market.
To check out recent sales on Lake Wylie, please visit my webpages: Recent Waterfront Home Sales and Recent Waterfront Lot Sales.
If you are interested in selling or want to talk more about your property, please give me a call. With hundreds of successful waterfront transactions completed, The Lake Wylie Man team has unparalleled lake property experience. We can advise you through each step of a sale or purchase.