Summer is wrapping up on Lake Wylie, and our volatile real estate market has taken a turn. Historically low listings, rising interest rates and economic factors have cooled sales considerably in what is traditionally one of our highest sales months.
In July, there were only six waterfront home closings on Lake Wylie, and two waterfront lots. Typically, there are about 20 Lake Wylie home closings in July. (Lot sales tend to vary more year to year.)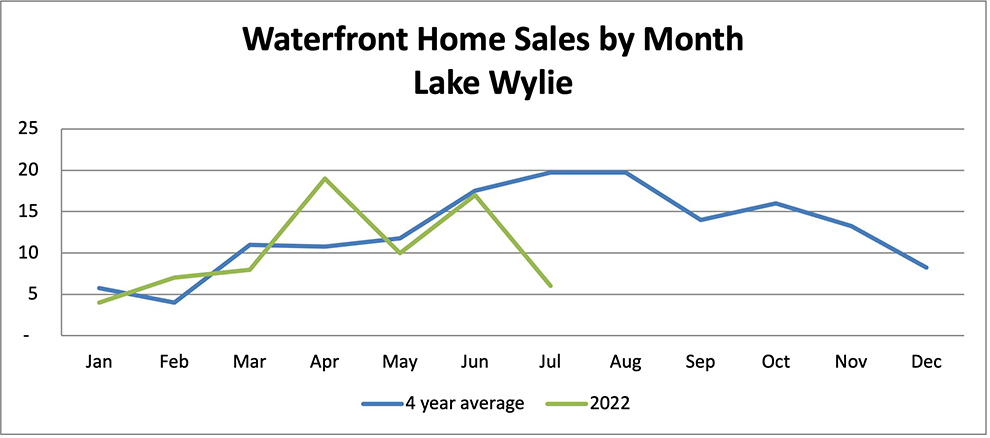 In the chart above, the blue line represents the average number of waterfront home closings on Lake Wylie by month, and the green line represents the current year. We were tracking along with the average until July — when recorded sales were the lowest since 2009, during the recession.
However, there are key differences! In 2009, the average price of a waterfront home on Lake Wylie was about $525,000, homes were selling at two-thirds the asking price, and the time on market was about a year.
In 2022, the average price is $1.2 million, most homes are selling near or above asking price, and the average time on market is about a month.
Million+ dollar homes are now the norm on Lake Wylie, with about 60% of sales in that category this year-to-date. We have quite a few sales over $2 million as well — a level rarely seen on the lake up until the past year.
Marketwide, the total number of home sales on and off the lake in York County, Belmont and the Steele Creek area of Charlotte took a dive in July as well.
Sales in the area fell 25% in July 2022 in comparison to July 2021.
Price per square foot is up 15% over last year, and up 52% compared to pre-pandemic.
The number of homes currently listed is 30% below pre-pandemic levels.
Higher interest rates have slowed the buying frenzy region wide and nationwide. However, there are still buyers waiting in the wings for waterfront property. The vast majority of homes currently under contract received offers within three weeks of listing. When priced properly, available homes will sell quickly.