It won't be long until the daffodils start popping out of the ground, and the real estate market enters its busy season. Waterfront home buyers are eagerly awaiting new listings!
In January, four waterfront homes and one dockable lot were sold on Lake Wylie — which is within the norm. January closings usually represent properties sold in mid-November through late December, the holiday season when showings and buyer activity drop off a bit.
If properties "in the hopper" (under contract and ready to close) are any indication, we're off to a strong start in 2022 for another robust year.
Listing inventory is beginning to inch up a bit, but still drastically lower than pre-pandemic. There are only 34 waterfront homes currently listed — and two-thirds of those are under contract. Thirty-three dockable lots are on the market, with 12 under contract.
Properly priced properties — particularly those in high-demand locations — continue to receive immediate buyer attention, multiple showing requests and fast offers, many at full asking price or even higher.
Of the properties currently listed that have been on the market for more than 2 months, the asking price relative to square footage exceeds last year's average by 75%. However, it it important to note that evaluating waterfront property prices by square footage is tricky. Unlike a typical "neighborhood home," waterfront property prices are driven by the view, water depth, location on the lake, type and condition of surrounding properties, topography, the style of dock and other lakeside amenities, and the home style/age/condition. A small lakefront cabin with a tremendous main-channel view and favorable location my have a much higher cost-per-square-foot than a newer, upscale home in the back of a cove, for example.
In this market, if a home lingers without an offer, the listing price should be examined, as well as feedback from the showings.
Waterfront cabins
Last year was an excellent year for Lake Wylie "cabin" sales, with 25 sold across the lake. We define "cabins" to be properties originally designed as "weekenders," small in size (usually 1400 square feet or less). Most were built 40-60 years ago, when many of the lake lots were leased and people did not build permanent homes on the properties. Over the years, when people were able to purchase the lots, some of the cabins have been removed to make room for primary homes, and others have been retained to use as vacation homes. Many have been modernized and renovated.
As waterfront homes have risen in price and available inventory has been limited, cabin properties have risen in popularity as a way for buyers to own lakefront property, and potentially build their primary home on the space at a later date. Prices of the cabin properties has climbed in the past few years: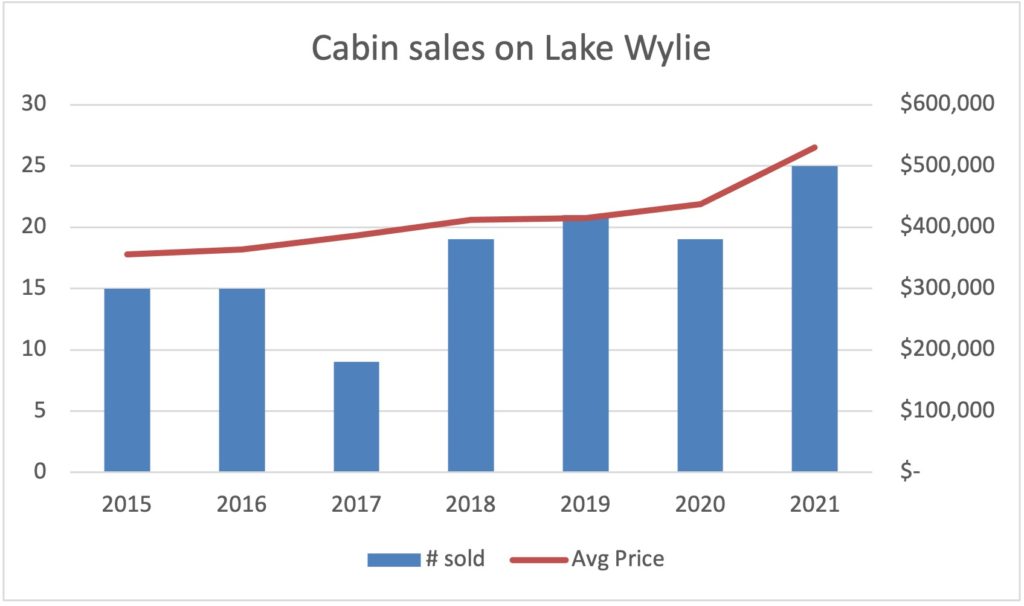 In the chart above, the blue bars represent the number of cabin sales each year. In 2021, the number hit a recent high mark with 25 cabins sold. The red line represents the average price. Prices have been steadily climbing since 2015, and took a sharp increase up to $530,000 in 2021, a 21% gain over the average price in 2020. This is consistent with the price increase for all waterfront properties on Lake Wylie last year.
We anticipate demand for cabin properties to be strong again this year. For some buyers, a renovated cabin might serve as their primary home, a more affordable option for living full-time on the lake for empty-nesters and others who don't need a large dwelling. For others, cabins may serve as a get-away on weekends or summer. Some of these properties — depending on restrictions in the area — may be used as vacation or long-term rentals.
Lot Sales
Listing inventory has been at record lows. However, the new McLean Hunts Point development infused a dozen or so properties into listing inventory in the past couple of months. Of the 14 lots listed on the MLS — with most asking prices in the $400's and $500's — half are already under contract.
Most of the listing inventory for dockable waterfront lots is in Belmont, the location with the most undeveloped waterfront land. With just a couple of dockable lots priced under $200,000, the listing price for most dockable lots currently available range from the mid $200's (cove lots) to $800k (premium point lot in McLean's luxury neighborhood, with long-range view).
Listing your property
If you're thinking about listing your property, there is no better time. Buyers are waiting and ready, checking for new listings daily. You can take a look at recent sales on Lake Wylie on my webpages, Recent Waterfront Home Sales and Recent Waterfront Lot Sales to get an idea of prices on the lake — but your best source (of course) is The Lake Wylie Man. With more lakefront selling experience than any other Realtor® in the area, you can count on me to answer your questions and help you navigate the sale. I look forward to talking with you soon!
Drew