Memorial Day traditionally kicks off the summer season, and people are out enjoying the lake.
There were just 6 waterfront homes and 1 dockable lot closed in May, and the stats tell the story. All six homes closed at or above asking price, and with the exception of one new construction, all were on the market for well under a week before going under contract. With limited listings available, sales are way down this year, but new listings are capturing quick attention from hungry buyers!
A quick glance at activity to date: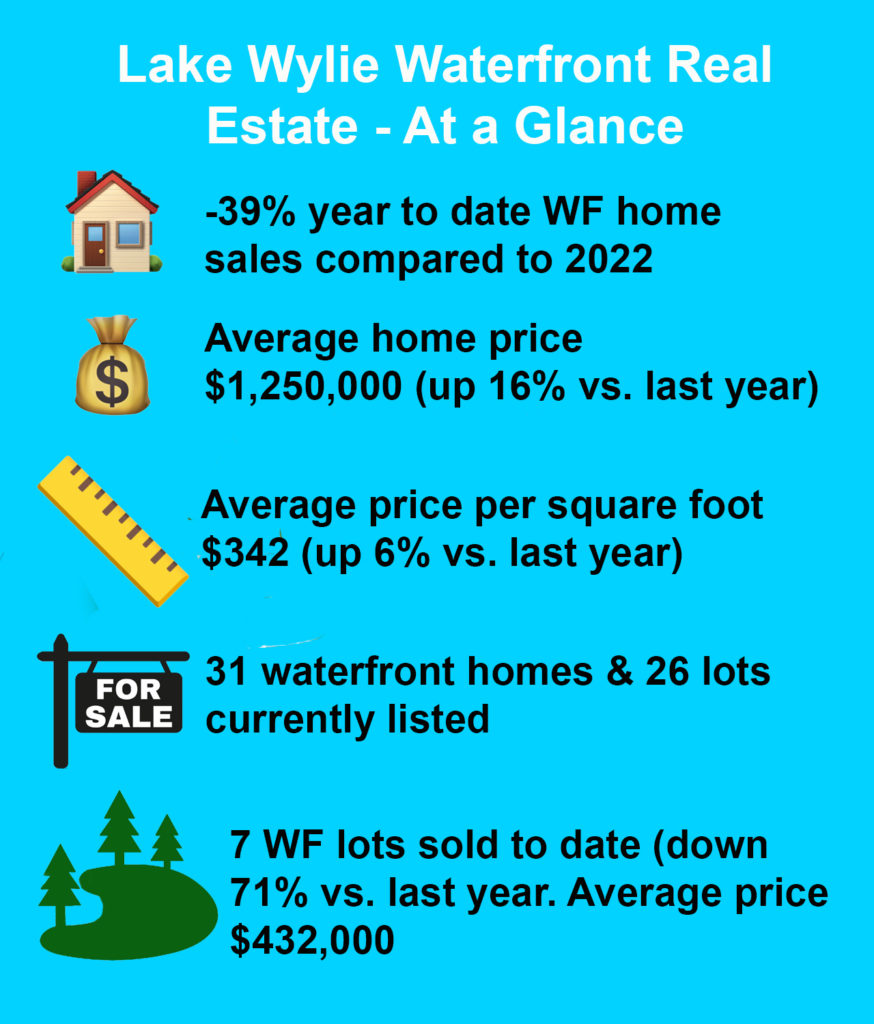 The average price of waterfront homes currently listed is $1.7 million. Considering the average price of waterfront home sold just three years ago was about $800,000, many buyers are being priced out of waterfront purchases. One home that sold in the mid $900's in late 2020 sold again this May for $1.3 million — with no apparent changes to the property. A waterfront lot in Handsmill on Lake Wylie closed in May for $575,000, after selling in 2020 for $399,000. Prices have risen significantly, with the average waterfront lot price up by about $100,000 compared to two or three years ago.
With rising prices and extremely tight inventory, unit sales are falling short of levels typical for this time of year: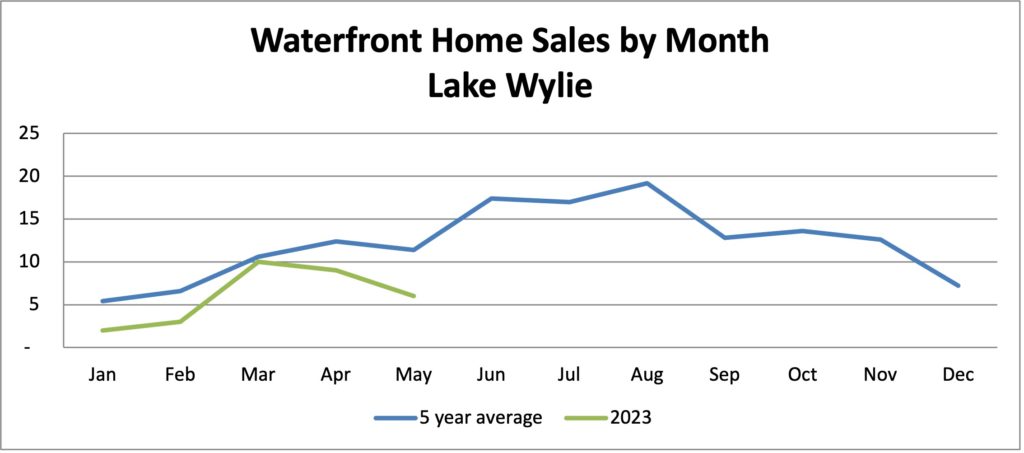 In the chart above, the blue line represents the 5-year average of the number of waterfront home sales on Lake Wylie by month. Seasonality of sales usually begins to climb in late spring, reaching the peak in the summer months. The green line, representing this year, shows month-by-month sales well below average. The number of listings available has ticked up a tiny bit — 31 homes currently listed, up from 25 last month, and 26 lots, up from 24 in May. We'll likely see a rise in the number of closings over the summer, keeping with typical seasonality while still falling below average sales.
General Market Trends
In the greater Lake Wylie area (including Steel Creek, Belmont and most of York County), home sales are down 25% in comparison to last year, primarily due to tight inventory. The number of listings in the area is down 25% compared to last year.
The average home price is $480,000 — up just 1% in comparison to year ago. Average prices rose 20% since 2021 and 51% compared to pre-pandemic (2019), so it appears the "runaway market" is settling down just a bit. Homes are staying on the market a bit longer and the buyer bidding frenzy is not as pronounced as the past couple of years.
The real estate market is still very strong for sellers in our area. If you have any questions or would like an evaluation of your property, I would love to help you. The Lake Wylie Man team has led sales on the lake for 15 years, and we sell many homes and properties off the lake as well. I look forward to hearing from you.