October numbers are in for Lake Wylie real estate activity, and It has certainly been a roller coaster ride!
TWENTY-SIX waterfront homes closed in October — a month that usually averages 8-10 closings. Last year the market had a record-breaking October, with 16 closings. Check out this year's performance in comparison to the past 3-year average: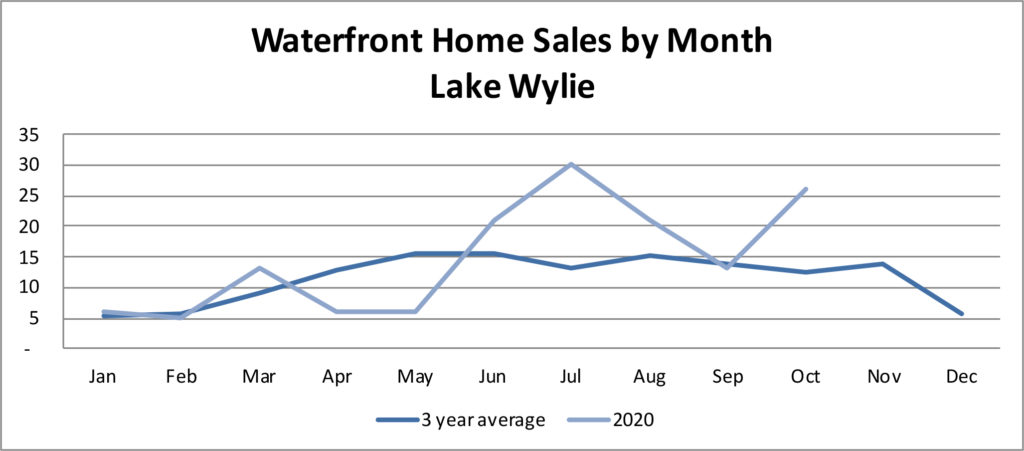 In the chart above, the dark blue line represents the last 3-year average number of closings per month for dockable waterfront homes on Lake Wylie. The light blue line represents 2020 performance. It has been an unusual year indeed, with closings falling far below normal during the first couple months of the pandemic, then higher than normal thereafter.
About a third of the homes closed in October were on the market for less than a week, and many sold at or above full asking price. Eight of the closings were in the luxury price category (over $1 million).
Low mortgage rates and changes in lifestyle have contributed to the uptick in lake property, as well as pent-up demand from the past couple of years as we have seen inventory decline. Offerings at different price points have not been able to keep up with demand.
Here at the beginning of November, the number of listings has reached another low point. Only 49 dockable waterfront homes are currently listed, with 22 of those under contract!
Looking at listings the past few months, the decline is pronounced: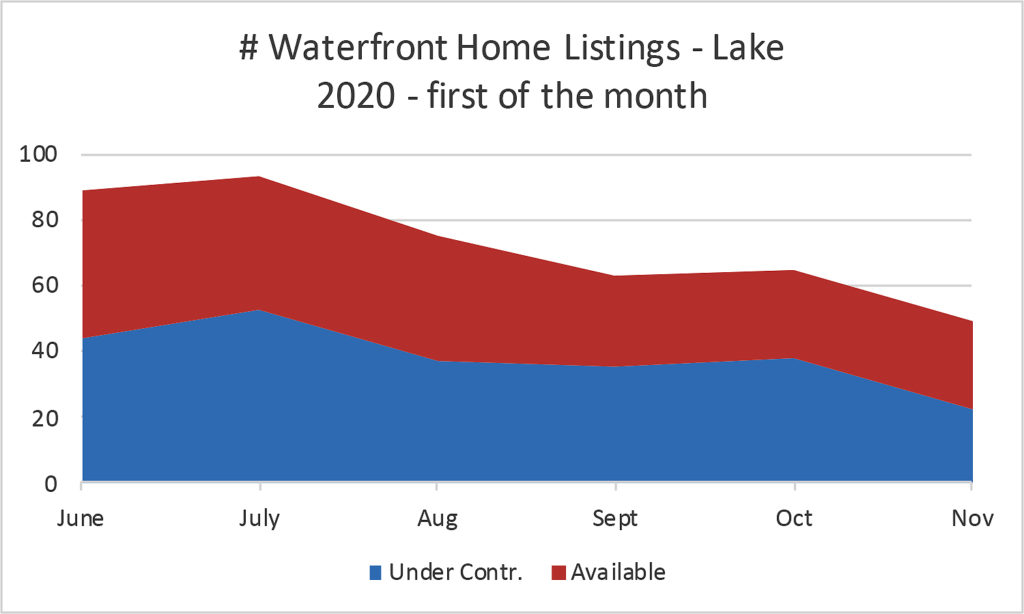 In the chart above, the blue portion represents the number of waterfront homes under contract at the first of each month since June, and the red represents the number of available waterfront homes.  In the MLS, the number of listings reported includes "Active" plus "Under Contract," because sometimes properties under contract can continue to be shown for back-up offers, and occasionally offers do fall through.
In June and July, the total number of listings hovered around 90 waterfront homes. Typically, the number of lakefront listings peak in the summer, and this year was no exception. However, in comparison to the summer months of 2019, total listings were down 30%! Combine that statistic with record sales, and it is a classic low supply/high demand situation.
The small number of homes available becomes even more dire when we break the listings into price points or areas on the lake. There are zero – – yes, zero – – listings under $500,000. Almost half of the available homes are priced over $1 million. Looking for something in the $700,000 range in the Clover School District? There is one house.
Waterfront lots are also in demand. While year-to-date sales are about level with the past two years, inventory is very tight. Currently, there are 74 dockable lots listed, and 14 of those are under contract. The number of listings is down over 20% in comparison to the past couple of years. With waterfront home inventory so tight, buyers will consider building and need land for their lake homes. Many will consider purchasing a cabin or lower-priced older home to remove and use as their building site.
Now is a great time to sell Lake Wylie waterfront property, even though (in a typical year) we'd be entering the slower season of selling. But this is no typical year. Now more than ever it is important to use a Lake Wylie waterfront expert to help you price, market and sell your property.  The Lake Wylie Man has led the market in waterfront sales each year for over a decade, and can offer unparalleled insight and service. Give us a call!