Spring fever is in the air! Some of these recent warm days have lured boaters out on the lake, and real estate activity is picking up considerably. Currently, there are 33 waterfront homes under contract (about 35%-45% higher than is typical for this time of year), and over half of those properties went under contract during their first month on market.
Vacant lots are also selling strongly — with 20 under contract right now. For perspective, a total of 50 dockable lots sold last year. At the beginning of March in 2020 (pre-pandemic) there were 10 dockable lots under contract — so pending sales are double what they were a year ago.
While all price points are in demand, luxury properties are continuing as the fastest growing segment. Year-end sales by price segment for waterfront homes on Lake Wylie in 2020 were as follows:
Under $500k – 23 homes (-12% vs. 2019)
$501k-$699k – 55 homes (+11% vs. 2019)
$700k-$999k – 53 homes (+20% vs. 2019)
$1million+ – 43 homes (+72% vs. 2019)
During January/February of 2021, 6 homes in the $1mm+ price category closed (as compared to 2 homes in 2019), and there are 11 homes in that price category under contract. Typically, first quarter represents under 20% of annual sales — so early 2021 activity indicates a very strong start for luxury home sales.
Higher priced waterfront lots are selling strongly as well. Thus far in 2021, 8 dockable lots have closed on Lake Wylie (up slightly from the past 2 years), and 6 of those lots sold for over $300,000. One, a 3.1 acre point lot in McLean, sold for a head-turning $1.3 million. There are currently 20 dockable lots under contract, the highest number we've seen in years.
Waterfront sales usually start taking off in March and build through the summer and into early fall. This year, February sales jumpstarted the season, outperforming the past 4-year average: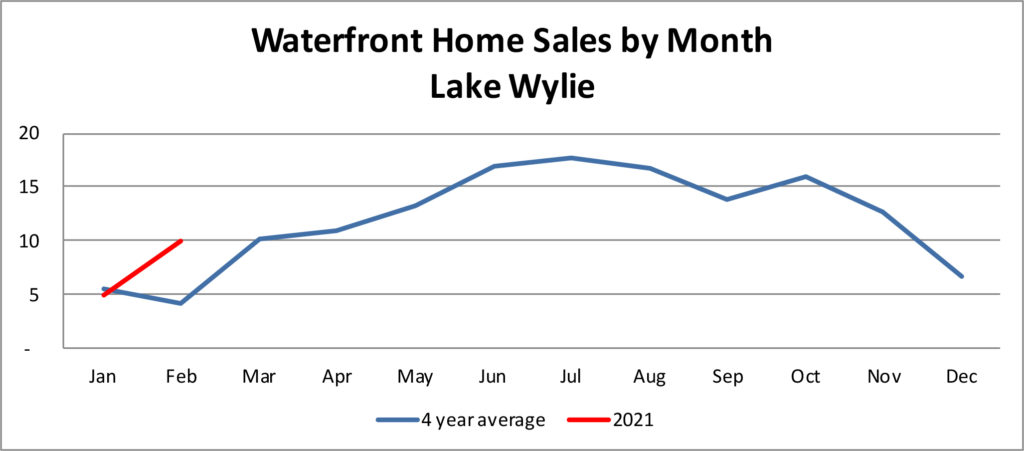 In the chart above, the blue line represents the past 4-year average number of waterfront homes sold on Lake Wylie by month, and the red line represents 2021 sales. Based on sales-to-date and pending properties, we can expect first quarter to significantly outperform 2020 levels.
Available inventory (number of listings) on Lake Wylie is still critically low. Not including listings that are under contract, there are only 21 waterfront homes on Lake Wylie available to buyers — about a third of the number available last year. The number of waterfront lot listings are down considerably as well. Low supply and high demand continue to cause prices to inch up on waterfront property.
Please call if you have any questions or wish to discuss your home or land. In this bullish market, rely on the expertise of the Lake Wylie Man team to price and position your property for the most positive outcome.