We've had a taste of spring in the past week or so, and I've seen lots of folks getting outside in their yards and out on their boats. This is the time of year Lake Wylie real estate starts amping up!
January/February activity was what I'd consider "normal," with about a dozen waterfront homes closed to date, and 26 under contract. What isn't "normal" are the high prices, short periods of time on market, and lack of inventory — though that might be our new "normal" for awhile.
In the greater Charlotte market, existing home sales in 2021 reached their highest level since 2006, according to the Canopy Realtor® Association. Buyers rushed to take advantage of historically low mortgage rates, and the pandemic altered buyer behavior — shifting people to move away from urban centers and into homes offering space for home offices and outdoor recreation.
Now, even though mortgage rates are creeping up (averaging about 4.1% for a 30-year fixed), buyer demand still exceeds supply. New listings are being snatched up quickly, if they are priced appropriately. Move-in-ready homes fetch a premium, but even fixer-uppers have high appeal for investment buyers with cash in hand.
On Lake Wylie, over half of the waterfront homes closed to date in 2022 were priced over $1 million. The average price of the 26 homes under contract is $1.2 million. Demand is just as strong for luxury priced homes as it is for moderately priced homes on the water. Check my webpages Recent Waterfront Home Sales for details on closings in recent months.
Waterfront home sales by month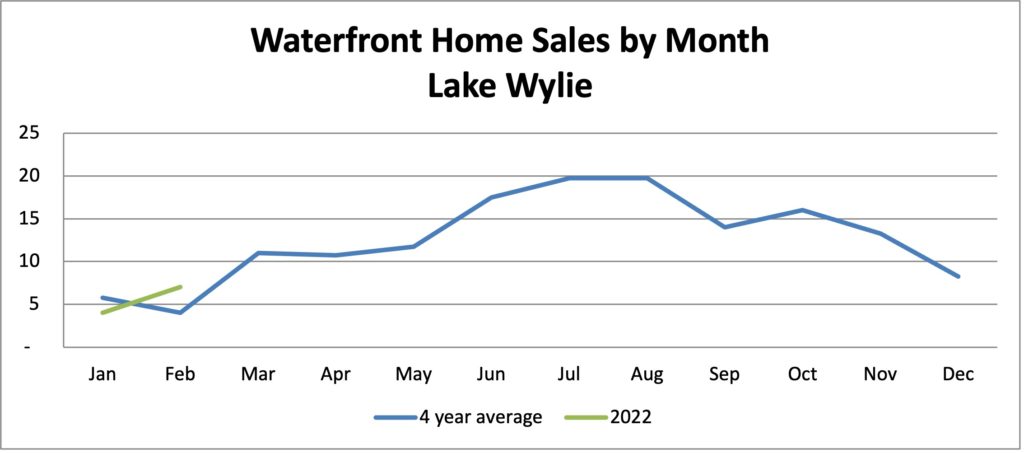 In the chart above, the blue line represents a 4-year average of the number of waterfront home sales by month. The green line represents 2022 sales.
Typically, Jan/Feb are the lowest sales months of the year. Most of the closings in the early part of the year are for homes that went under contract in mid-November through the end of December, winter holiday months when buyer activity is curtailed.
Closings typically pick up in March, and then peak in summer months.
Thus far, 2022 sales are on par with the average number of waterfront home sales on Lake Wylie.
Waterfront land sales
Waterfront lot sales are off to a good start in 2022, with three closings through the end of February, plus five closings in the new McLean's Hunts Point development during the first week of March. Hunts Point, located in Belmont off of South New Hope Road near Daniel Stowe Botanical Garden, features 22 homesites. Most of the waterfront lots are priced in the $400's and $500's.
There are only 37 dockable waterfront lots currently listed on Lake Wylie, less than half the number listed pre-pandemic.
Check my webpages Recent Waterfront Land Sales for details on lot closings in recent months.
Questions? Need info?
If you'd like to discuss your property, please shoot me an email or call. In today's fast-paced market, lake expertise is more important than ever, and The Lake Wylie Man team has successfully closed more waterfront properties than any other Realtor® in the area. I look forward to hearing from you!