Happy fall, y'all. I hope everyone is enjoying the cool weather, football games and all the fun of the season.
We've certainly had a wild ride in real estate the past couple of years. On Lake Wylie, home sales have cooled this past quarter — similar to trees in the region and nationwide. Listing shortages have been an issue everywhere, and homeowners postpone plans to move, keeping an eye on the economy and mortgage interest rates. Lack of supply coupled with strong demand has driven prices up on homes significantly. Some of our market highlights include:
The number of waterfront homes sold on Lake Wylie is down 28% in comparison to last year, and is expected to finish the year at about 35% below 2021 sales.
However, dollar volume is down only 6% compared to last year. The price tag on the average waterfront home sold in 2022 thus far is $1.2 million, a whopping 30% increase over last year's record level.
The number of waterfront lots sold is 42% lower than last year this time, and the average price rose 15% to just over $400,000. However, more than half of the lots sold are in the premium-priced McLean developments in Belmont, driving up the average price.
Properties are still selling lightning fast. Well over half of the homes sold this quarter were on the market less than a week, and many sold at or above asking price.
Waterfront Sales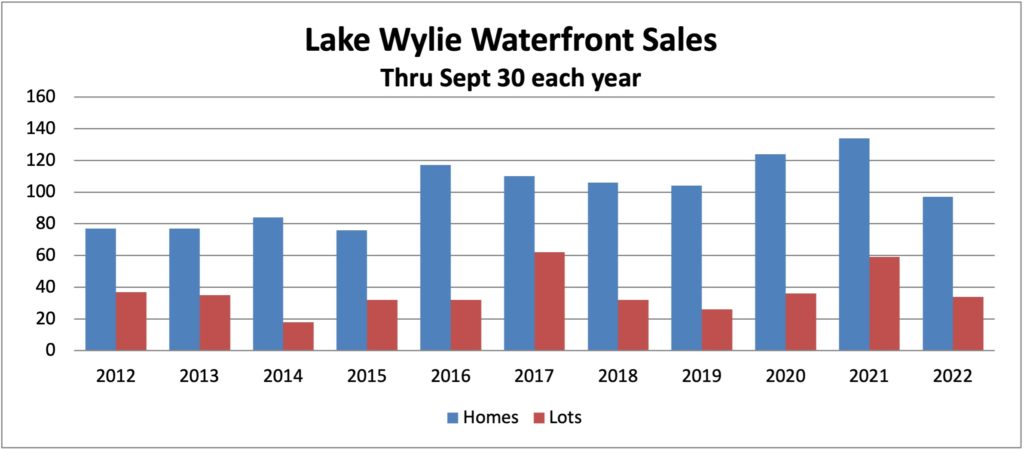 In the chart above, the blue bars represent the number of homes sold on Lake Wylie through September of each year, and the red bars represent lot sales. The waterfront market recovered from the recession in 2016 with record sales up to that point, then held steady until another growth spurt during the pandemic. High demand and low supply finally met its match in 2022, and sales began to cool in early summer.
Lot sales are more volatile from year to year. Some buyers set out to purchase a lot and build to suit their own design and other needs, while other buyers look first in the existing waterfront home market and turn to purchase a lot when they are unable to find the right home. In the past couple of years, however, availability of lots on the market has been quite limited, especially in the $300,000 and below segment. Most of the sales in the past couple of years have been in McLean's new developments in Belmont.
Waterfront Prices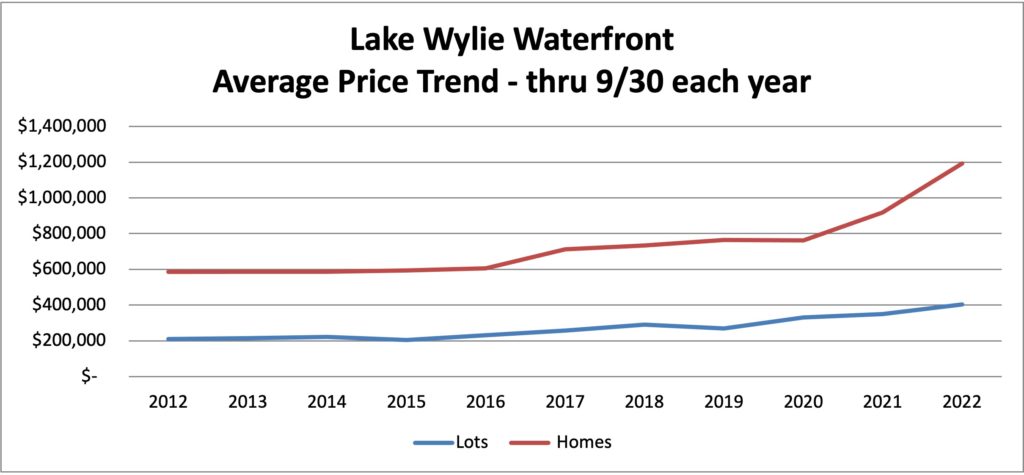 In the chart above, the red line represents the average price of a waterfront home sold on Lake Wylie, and the blue line represents lot prices. Prices for homes were on the rise after the recession, reaching the mid $700's in 2019. The pandemic caused demand to spike, particularly for homes in recreation areas such as Lake Wylie. Our waterfront home prices are up 56% since pre-pandemic.
We've taken a look at waterfront homes that sold two or more times within the past four years, and with a few cosmetic updates (or no updates at all), prices rose an average of 40%, depending on the style and location of the home.
The average home price on Lake Wylie this year is $1.2 million. This represents quite a shift from years past: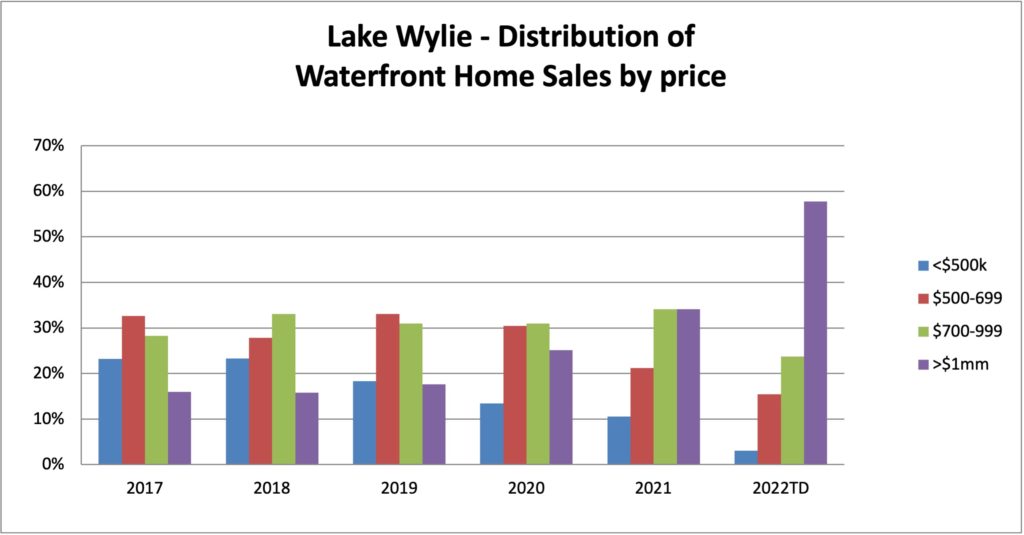 In the chart above, the percent of homes sold in each price category is represented as follows: blue bar – under $500k; red bar – $500-699k; green bar – $700-$999k; purple bar – over $1 million. Pre-pandemic, the bulk of sales were between half a million and a million dollars. Most recently, the majority of home sales exceed $1 million, and for the first time, sales over $2 million are fairly common — with six sales this year ranging from $2 million to $5 million.
In September 2019, there were 23 Lake Wylie waterfront homes listed for under $500k. Now there is one. There were 76 homes listed between $500k-$1 million. Now there are seven. The number of million dollar homes listed has gone up just a little. What we're seeing is a disappearance of listings under $1 million, and buyers with moderate budgets are finding themselves in a race whenever a new listing comes up that they can afford. Homes that are in their price range are often much smaller or in areas not as favorable as they were a few years ago.
Sales by Month
Typically, sales are strong on the lake through early fall: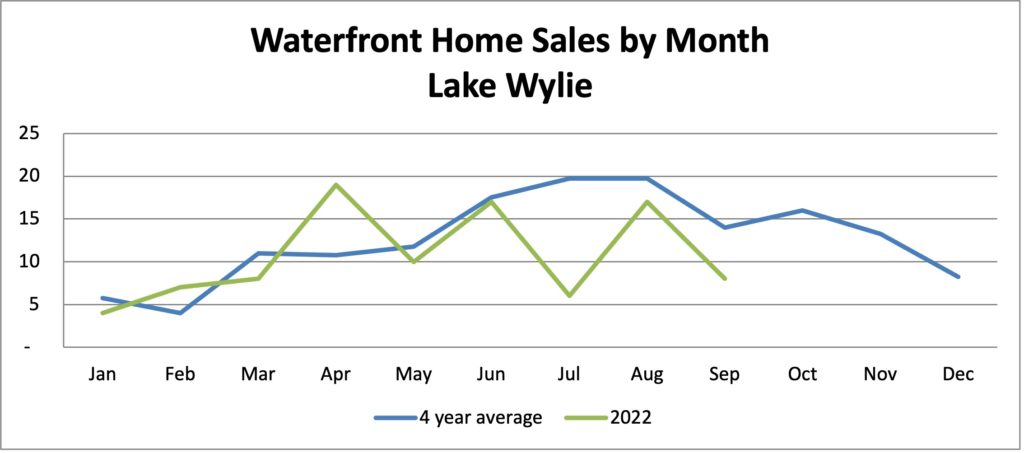 In the chart above, the blue line represents the average number of homes sold by month on Lake Wylie, based on the past four years. The green line represents this year's sales. With the exception of April, sales by month have been close to or have lagged behind last year's. Currently there are only 14 waterfront homes under contract (compared to 27 last year this time). Of the 14, eight are homes under construction, which typically take a long time to close. We expect to lag considerably behind the average in fourth quarter.
As we go through this market adjustment, there are things to keep in mind: Demand is still strong for waterfront homes. A large factor in the sales decline is simply lack of inventory; we have very few homes to sell. As long as demand is high, prices will stay strong.
If you are considering selling your waterfront home or land, give me a call and we can discuss the best price and marketing plan for your property. Once again, The Lake Wylie Man team is leading the market, significantly outselling other Realtors as we have for the past 15 years. Rely on that expertise.
I look forward to hearing from you if you have any questions. Thanks so much!