Here's hoping everyone is enjoying the beginning of the holiday season on Lake Wylie. It's always fun to go to the annual boat parade, and ride around looking at the lights on and off the lake.
We had a little uptick in waterfront home closings in November, approaching normal sales levels after several months of lagging behind. We expect to end the year with the total number of waterfront home sales about 30% below last year's sales, but dollar sales just 10% below last year's.
The average sale price for lakefront homes this year has topped $1.2 million — compared to about $925k last year. Two factors contribute to the increase in price:
The lack of supply (number of listings available) and increase in demand for homes has driven prices up, up, up. We've tracked some sales of the same homes changing hands two or more times in a 4-year period, with prices rising 25-40% with little to no improvements made on the properties.
The number of listings in lower-to-moderate priced waterfront homes has declined more dramatically than for luxury priced homes. With less availability in the lower price segments, the proportion of sales in the higher brackets has increased, thereby resulting in higher average price for the homes sold.
Sales by Month – Waterfront Homes on Lake Wylie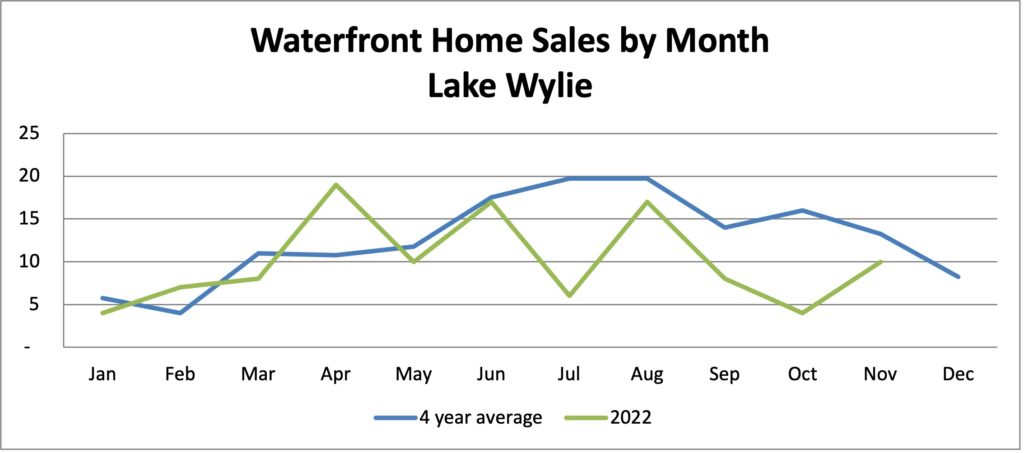 Ten waterfront homes closed in November, with an average price of just over $1.2 million. The highest priced home was an 11,000 square foot home on Youngblood Road, which sold for $2.8 million. The lowest price was a 1,775 square foot home in Paradise Point (Belmont) which closed at $590,000.
One waterfront cabin on River Oaks Road in Lake Wylie sold for $875,000. Built in 1969, with three small bedrooms and a total of 1,363 square feet, the cabin is located in a highly desirable location on a premium 1.3 acre lot with about 350' of shoreline and a panoramic view. We've seen a number of cabins sell for top dollar in the past year or so, with offerings such as this one providing buyers flexibility to enjoy a weekend retreat and potentially convert the property to a building site for a permanent home at a later date.
There have been a number of sales this year in the "original" area of Tega Cay, with homes built in the early 1970s, usually under 2,500 square feet. Prices for these homes average in the mid-$700's, almost $360 per square foot. Just prior to the pandemic, homes such as these sold in the mid-$500's, $220 per square foot.
There are currently 13 waterfront homes under contract — with half of those under construction or not yet started. The number of available listings has continued to dwindle, with only 31 homes currently listed — just one-third the number listed pre-pandemic. Until supply catches up with demand, we'll see prices remain high and buyers competing for new listings.
Waterfront lot sales trends are similar to home sale trends. The number of listing is at an all time low, with just 21 lots on the market. Seven of those are under contract, with 2-4 likely to close by year end. The average price for waterfront lots on Lake Wylie is just over $400,000, up $60,000 compared to last year.
For sellers — particularly those who own undeveloped waterfront lots or second homes on the lake — it is a very good time to consider selling. There is unmet demand from the current pool of buyers.
Buyers will find the market continually competitive in coming months. New listings are moving quickly, as demand outpaces supply. The advice from a seasoned realtor is invaluable in determining the value of the property, best strategies to secure the purchase and considerations as we move toward a successful closing.
The Lake Wylie Man team has achieved #1 sales in Lake Wylie Waterfront each year for well over a decade, and we have navigated hundreds of lakefront closings, encountering almost every situation imaginable. Waterfront real estate transactions include steps and considerations not encountered in properties off the lake, and you'll want a lake expert in your corner. You can rely on our expertise throughout the process.
To view more details about recent sales on Lake Wylie, visit my