As we begin the final quarter of 2022, we're seeing a dramatic slowdown in the Lake Wylie real estate market. It comes as no surprise. For the past couple of years, the supply of homes on the market has dwindled, particularly in the lower and mid-priced brackets. Rising interest rates and inflation have added to the complexity of the market.
Since July, waterfront home sales on Lake Wylie have lagged behind the four-year average by month: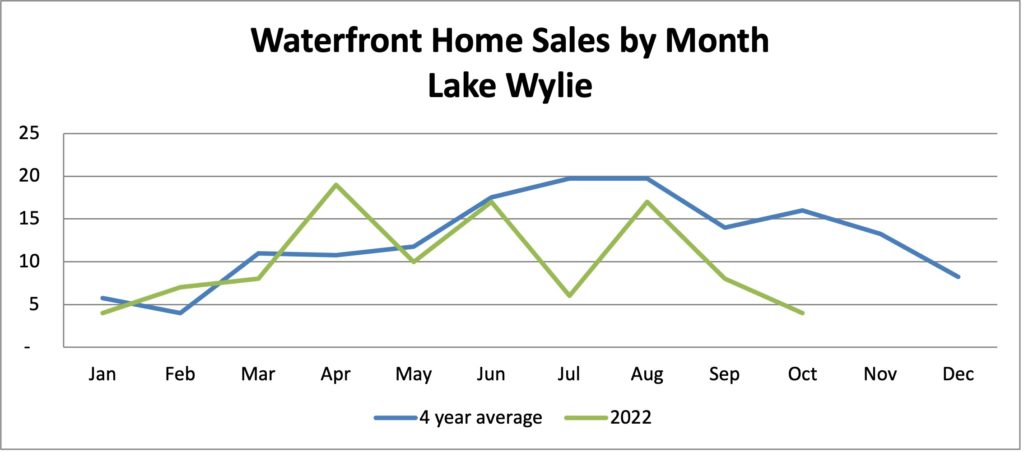 In the chart above, the green line represents the number of waterfront homes sold on Lake Wylie by month, and the blue line represents the average "norm" — based on the past four years of sales. Lakefront home sales for 2022 are lagging 30% behind last year's sales to date.
Dollar sales are down less than 10% in comparison to last year's, however, as the average sale is  about $1.2 million — a record high on Lake Wylie. Even lake "cabins," older properties intended for weekend or vacation use, have reached an average price of over $700,000. A few cabins with large acreage and/or big views have topped the $1 million mark in this cash-rich marketplace. We're seeing buyers with deep pockets in a highly competitive market.
Waterfront lot sales are down as well — 40% below last year's sales through the end of October. The average price is $400,000 for a waterfront lot, up 16% compared to a year ago. Squeezed inventory levels have limited supply, with strong demand, driving up prices on all waterfront lots. Half of the waterfront lot sales this year are in premium-priced McLean developments, further increasing the average price.
List it, and buyers will come . . . 
New listings are still receiving quick attention from buyers — and the majority of homes sold this year were under contract within a week of listing.  Some sellers are cashing in on the hot market. We've seen several homes change hands more than once within a couple years or so, realizing hefty profits with simple cosmetic updates (or no updates at all.) 
Check out detailed information for this year's sales on my web pages, Recent Waterfront Home Sales and Recent Waterfront Lot Sales. If you'd like to discuss your options, I'd love to help. Once again, The Lake Wylie Man is leading the market in waterfront sales. You can rely on our expertise for the best outcome in your real estate transactions.